With colder weather slowly rolling into Georgia, you may notice your windows letting out some of your warm air and allowing in cold air. This can be a huge frustration for homeowners, resulting in uncomfortable temperatures at home and extra costs on your heating bills all winter. It can be hard to know if your windows just need a quick fix to get through the winter, or if it's time to get them replaced. Let's take a look at why your windows can get drafty, how to craft a short-term fix, and when you should replace them.
There are many reasons a window can lose its seal and start becoming drafty. Sometimes it's poor workmanship, and not having the window correctly installed can mean air slips through in and out of the home. Often times the putty can become brittle and chip away, leaving the window rattling in the window and allowing cold air in. But most often in Georgia, the culprit is warping from the extreme changes in weather from season to season, as glass and frames can bend and distort the seal as they heat up and cool down. Any and all of these reasons can damage your window over time and lead to problems with drafts.
If you want a quick-fix for your drafty windows, you have a few different options. First, you can cover the window with plastic film and heat it with a hair dryer to get an airtight "drum" effect in the window that can help a room retain up to 55% off its heat. It's affordable and quick to install, but can be an eyesore, and speaking from experience, doesn't last long in a house with cats or dogs who will be scratching away.
Another option involves a simple draft snake. Often used under doors, they can be very effective for windows as a simple and attractive way to block out cold drafts and keep warm air inside. If you don't want to buy one, making one is as simple as filling a long tube sock with dry rice. It won't get your room into Better Homes and Gardens, but it gets the job done!
Finally, applying a roll of rope caulk around your windows can help block out the cold drafts and keep your home warm. This is an easy and affordable option to help keep air from escaping and won't ruin your windows when you remove it in the spring. It's easy to install and can be easily cut and customized for windows of all shapes and sizes.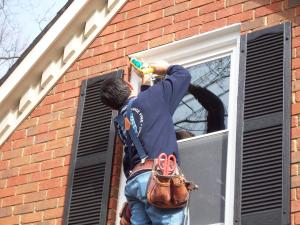 For some windows, these fixes are good enough for you to get through the winter without spending an arm and a leg on your heating bills. But these are temporary fixes that won't last, and more often than not, the hassle and cost of keeping a bad window outweighs getting a real replacement. For the temperamental Georgia weather, we recommend looking at the Marvin Infinity fiberglass window. The window won't warp in hot weather and cause drafts during the winter, requires a small and simple frame because of its sturdy construction, and has beautiful wood window design that provides your home with the best view possible. Imagine a winter without drafty windows and crazy heating bills! The Marvin Infinity fiberglass window may be the answer to your drafty window issues this winter.
Have questions about your windows and want to know if it's time to replace them? Get an expert opinion and leave the cheap DIY fixes behind! North Georgia Replacement Windows can answer your questions and help you understand your options. Come by and visit us at our showroom at 1210 Warsaw Rd., Suite 1000, Roswell, GA 30076, or give us a call at 770.888.1604 to schedule a free consultation and learn about the best window options for your home!