For decades, vinyl has been the go-to material for replacement windows because of the low upfront cost and promise of "lifetime guarantees." As the years pass, window materials have evolved, but many vendors are still pushing vinyl windows, and customers are buying them. At North Georgia Replacement Windows, we've seen it all when it comes to window replacement in Georgia; as a result, we know which materials provide the best lifetime value, energy savings, reliability, and beauty for your home. When you take a hard look at vinyl windows, there are many clear reasons to go another direction.
Vinyl windows are not as energy efficient
There are many measures that a professional installer can take to make vinyl windows more energy efficient, but even these efforts wear down over time. In Georgia weather, vinyl windows and frames can expand and contract significantly, weakening the window and jeopardizing the seal. This opens holes between the frame and wall, letting your heating and air conditioning escape, and therefore creating noticeable results on your energy bill. Vinyl windows can help with energy efficiency in the short term, but after some time in the Georgia heat, they are likely to end up costing you more.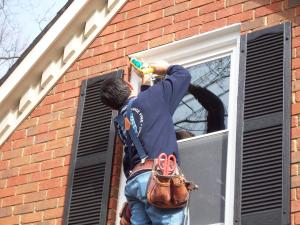 Vinyl windows are less reliable
One of the biggest issues with vinyl windows is that they are not strong enough to handle their own weight, so they require larger frames to prevent bowing and breaks. The more complex the framework around the window, the more problems that can arise when it expands and contracts due to the weather, causing damage and requiring replacement. Poor workmanship during installation can increase the likelihood of these issues and reduce the lifetime value of your vinyl windows. Once again, the affordability of vinyl in the short term is outweighed by the risks in the long term.
Vinyl windows are less attractive
Because vinyl windows cannot be painted any color you want, you are often at the mercy of the elements when it comes to the long-term appearance of your vinyl windows. Many times they can fog up when moisture gets inside the pane, and can become cloudy, hazy, or yellowish over time. Not only does this make your windows look worse, it damages the appeal and value of your entire home. Because of the weight of vinyl windows, a larger frame is required around them to keep them in place, reducing the actual viewing area of the window, allowing less light in and a smaller view out. While vinyl windows may look okay when first installed, they will not keep the same look with age.
By now, it's clear that vinyl windows are not the solution for Georgia window replacement. Still not convinced? Here's dozens more reasons and resources why you get what you pay for when you purchase cheap vinyl windows. Fortunately, there's good news about the best window material for your home! Fiberglass windows have the strength, value, and reliability necessary to stand up to Georgia weather and provide you and your home with beautiful light for years to come. If you decide that vinyl windows are the right option for you, or want to learn more about fiberglass windows, North Georgia Replacement Windows can answer your questions and guide you through the entire process. Come by and visit us at our showroom at 1210 Warsaw Rd., Suite 1000, Roswell, GA 30076, or give us a call at 770.888.1604 to schedule a free consultation and get the best windows for your home!